Silver Rose
A Higher Purpose
Share the message of Our Lady of Guadalupe and promote respect for life by participating in this meaningful pilgrimage. The Silver Rose program demonstrates the unity between Knights of Columbus in Canada, the United States and Mexico, through a series of prayer services promoting the dignity of all human life and honoring Our Lady.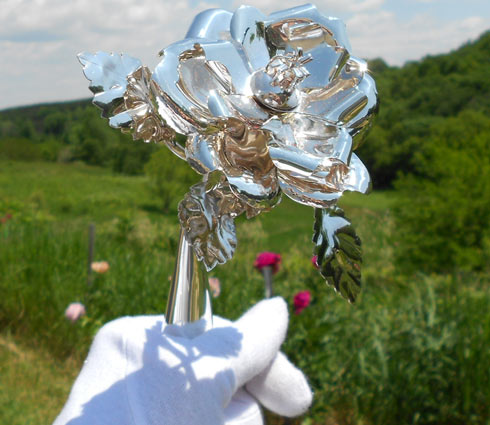 Each year, from early March through mid-December, Silver Roses are stewarded by Knights of Columbus councils along routes from Canada to Mexico. Every stop the Silver Rose makes throughout the pilgrimage is a rosary-centered occasion for Knights, parishioners and community members to pray for respect for life, for the spiritual renewal of each nation, and for the advancement of the message of Our Lady of Guadalupe.
Wilmington is on Route 5 of the journey from Virginia to Mexico. Within each state the Silver Rose will stop at many Knights of Columbus council's parishes. The schedule the Father James E. Waters Council 12017 is part of progresses through these states:
February 27 - March 21, Virginia
March 22 - April 18, Tennessee
April 19 - May 16, North Carolina
May 17 - June 13, South Carolina
June 14 - July 11, Georgia
July 12 - August 29, Florida
August 30 - September 26, Alabama
September 27 - October 24, Mississippi
October 25 - November 28, Louisiana
November 29 - December 11, Texas
December 12, Mexico
This is the 61st year for the Silver Rose journey and is described in this article from the Knights of Columbus Supreme website.